What is Imago Relationship Therapy?
Imago Relationship Therapy is a model of couples work and relationships. It was developed by Dr. Harville Hendrix and Dr. Helen LaKelly Hunt in the 1980s. It focuses on transforming conflict into healing and growth through relational connection.
The model is is based on the theory that feelings you experienced in your childhood come up in your adult relationships. By understanding how negative experiences and feelings from childhood carry over into adult relationships, you can better understand your reactions to your partner, and vice versa, and develop the skills and empathy necessary to transform your individual self and your relationship.
With the goal of helping couples to stop blaming or reacting negatively to their partners and, instead, become more understanding and connected, it can be a really helpful tool within couples counselling.
Imago Dialogue
One of the areas that Imago Relationship Therapy seeks to address is the issue of communication – using the 'Imago Dialogue' as a tool to restructure the way couples talk to and communicate with each other. In essence, it is made up of 3 stages: mirroring, validating and empathizing.
Mirroring – One partner will listen to the other and mirror what the speaker has just said. Exactly what the other person has said, not an interpretation.
Validating. The partner that has done the listening validates what the partner has said to show they can see where the speaker is coming from.
Empathising. The listener feeds back some understanding of feelings. Its about creating a connection. The speaker may disagree with the feelings put forward but it doesn't matter.
Initially, using the Dialogue method may feel uncomfortable. With a little practice it can be an a great experience for both parties as they feel heard and understood.
Using the Dialogue model can help partners develop awareness that there will always be two realities in the relationship. They can come to understand, accept and value their partner's reality without needing it to be the same as their own.
Courses in using the Imago Relationship model
Training in the Imago Relationship Therapy model starts with the 2 day Imago Foundations; Getting Started with Couples Therapy. This is also the first two days of the 12 day full training to become a Certified Imago Relationship Therapist . The course is for counsellors and therapists who are looking to learn the basic theory and clinical skills of Imago Relationship Therapy. It is also perfect for trainee counsellors and therapists.
The Imago Foundations course trainer is Ian Tomlinson, PTSTA (P). He works with both individuals and couples. He is an Advanced Imago Relationship Therapist, Workshop Presenter and Associate Member of The Imago International Training Institute.
Our next Imago Foundations course is happening in North West Leeds on 7 & 8 November 2022.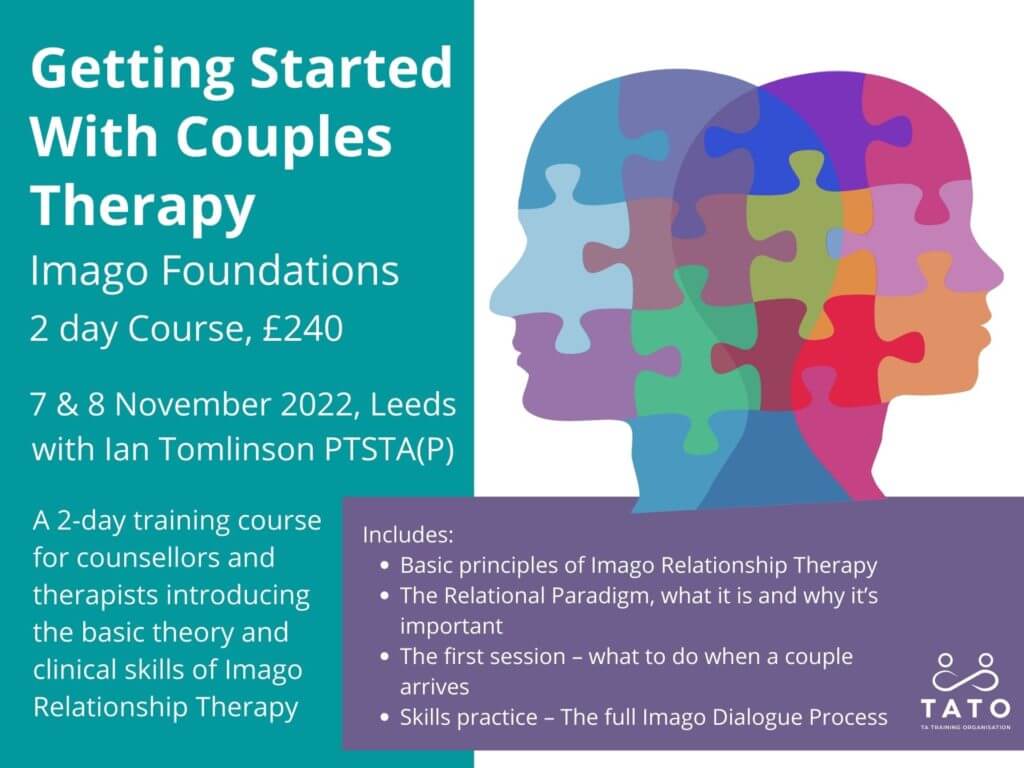 Resources
Harville Hendrix and his wife, Helen LaKelly Hunt have developed several resources for the model. These include Getting the Love You Want: A Guide for Couples.