The Royal Road to the Unconscious, and Other Stories
with Barbara Clarkson
Sat 2nd & Sun 3rd February 10.00am – 5.00pm
What is the course about?
Entering a world of colour, movement and imagery, we will explore a range of options for using the language of dreams and metaphor with clients. Enabling both therapist and client to make the unconscious conscious, and find meaning for the "unthought known".
We will make links with dreamwork, neuroscience, systems of imagery, Jungian theory and a range of creative therapeutic techniques. We will explore methods such as Guided Affective Imagery, and Installation of Resources. Participants will be encouraged to develop their own methods for working with unconscious material using fantasy.
Course content
The material covered in the workshop includes:
Imagery, metaphor, dreams and neuroscience
The use of metaphor in the dyadic relationship to enhance the discovery of meaning
Archetypal imagery in therapy
Guided Affective Imagery
TA/Gestalt dreamwork technique
Using metaphor to create safety, protection and resources for vulnerable clients
The role of the image in the development and reclaiming of the self
Accounting for client presentation in selecting tools for the work
Metaphor for the therapist – creating your own inner landscape
Delegates will discover the styles of working with metaphor, dreams and imagery that work best for them, and be able to begin to develop their own approach to using these techniques with clients.
Who is the course suitable for?
Anyone practising as a counsellor or psychotherapist who wants to explore the possibilities offered by including working with imagery, dreams and metaphor in their work.
About the Trainer
Barbara Clarkson, MA, CTA, TSTA is a Transactional Analysis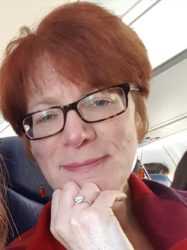 Psychotherapist, Trainer and Supervisor with 24 years experience in
practice. She has presented many workshops and training events
about using metaphor, imagery and dreams to facilitate deeper
understanding of ourselves and our clients, and uses these tools in
supervision to deepen practitioners' understanding of their work.
She has also worked intensively with groups of therapists on short
retreats, to develop their personal use of these powerful resources
for wellbeing, healing and growth, and to increase their resilience for
the work we do.