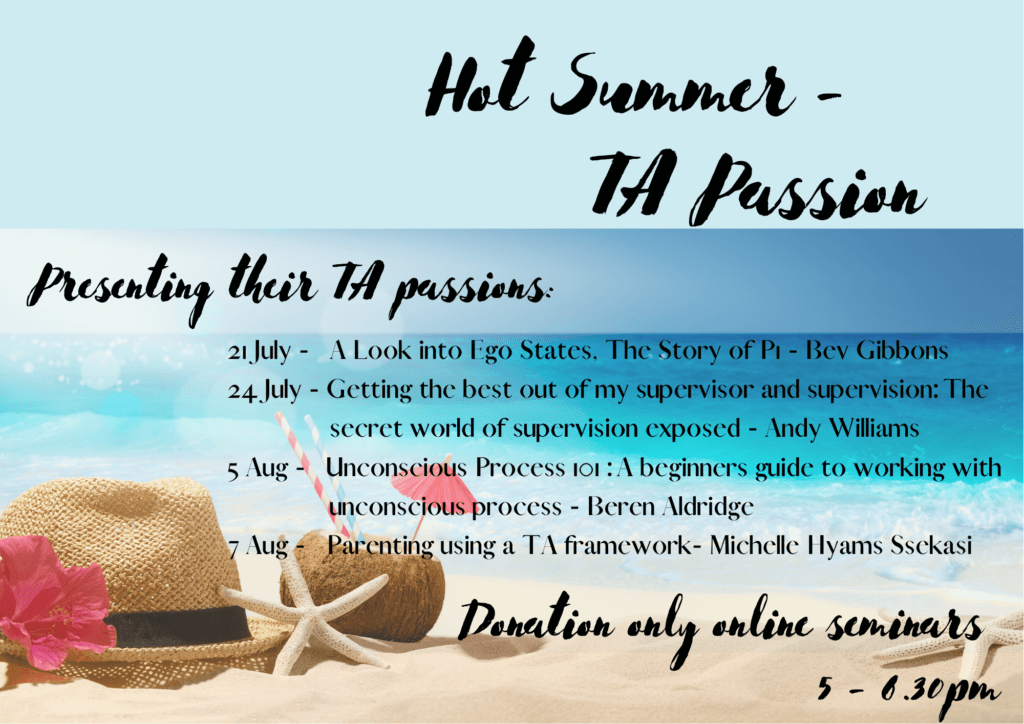 Hot Summer – TA Passion
TA Passion is our series of summer online seminars, in July and August. Our team of trainers share with you what, in the world of Transactional Analysis, they are really fascinated and passionate about. Each seminar is 90 mins long and is by donation only. Seminars start at 5pm and finish at 6.30pm. We look forward to seeing you!
Tuesday 21 July – A Look Into Ego States – Bev Gibbons
Join Bev on a quest to understand the structure of ego states, which will be explored through the story of P1, the Parent in the Child ego state. This is a protective part of the deep psyche, created by the child as a protection in the service of survival.
The ego state model is the motif of Transactional Analysis, wherever there is an ego state model there is TA. The 3 stacked circles, P, A and C for Parent, Adult and Child and referring to human psychological modes, are well known and used by many practitioners.
'P1 guards the rock in front of the cave where the Natural Child resides. P1 locks away the Natural Child, or C1, to protect its existence'.
Sounds like the stuff of fairy-tales! Bringing to mind Rapunzel in the tower, kept prisoner by the witch and protected by a forest of thorns, or nasty Rumpelstiltskin who forced the princess to stay locked in a room weaving golden cloth. And many more. In conclusion, this really does reflect the creativity of the Child ego state in weaving stories that govern the whole ego state structure.
Friday 24 July – Getting the Best out of My Supervisor and Supervision with Andy Williams
Discover how to get the best out of your clinical supervisor and supervision – the secret world of supervision exposed.
The second in our series of TA Passion seminars. Andy Williams TSTA(P) has recently completed a research masters in Professional Supervision. In this workshop he will explore:
Transactional Analysis (TA) supervision, what is it?
What characterises good supervision?
What were the 5 key "secrets" that his research project unlocked, that every supervisee and supervisor should know?
This light-hearted workshop aims to provide the delegate with some key ideas around TA supervision and some key markers that will ensure the OK:OK nature of good supervision.
Wednesday 5 August – Unconscious Process 101 – with Beren Aldridge
When we are working to become psychotherapists it can be a real challenge to get a toe-hold on the rock face of unconscious process. How do we learn to climb, to keep ourselves steady within this aspect of our field?
This seminar begins at first principles, offering you ideas for staying grounded and present with your clients, while at the same time being open and curious about the patterns, images and sensations that are arising within yourself and the person you are with.
As well as sharing Beren's passion, you'll come away with a map for your work, supporting you to explore the paradox of being conscious about the unconscious.
Friday 7 August – Being a Parent Today, How Much Is Enough? with Michelle Hyams Ssekasi
This seminar focuses on being a parent in the 21st century. We look at the strengths and challenges of parenting. Exploring the importance of process and content, we look at taking into account the three P's (Permission, Potency & Protection).
In addition, it offers parenting tips that focus on the need for the parent to nurture both self and child. Providing structure and affirmations at all developmental stages. We will link core Transactional Analysis concepts in a practical way, therefore acknowledging that parenting provides life long learning.
Above all, delegates will gain an understanding of parenting through a TA lens. They will have an awareness of "what to do, rather than what not to do". And will also have fun & share experiences.