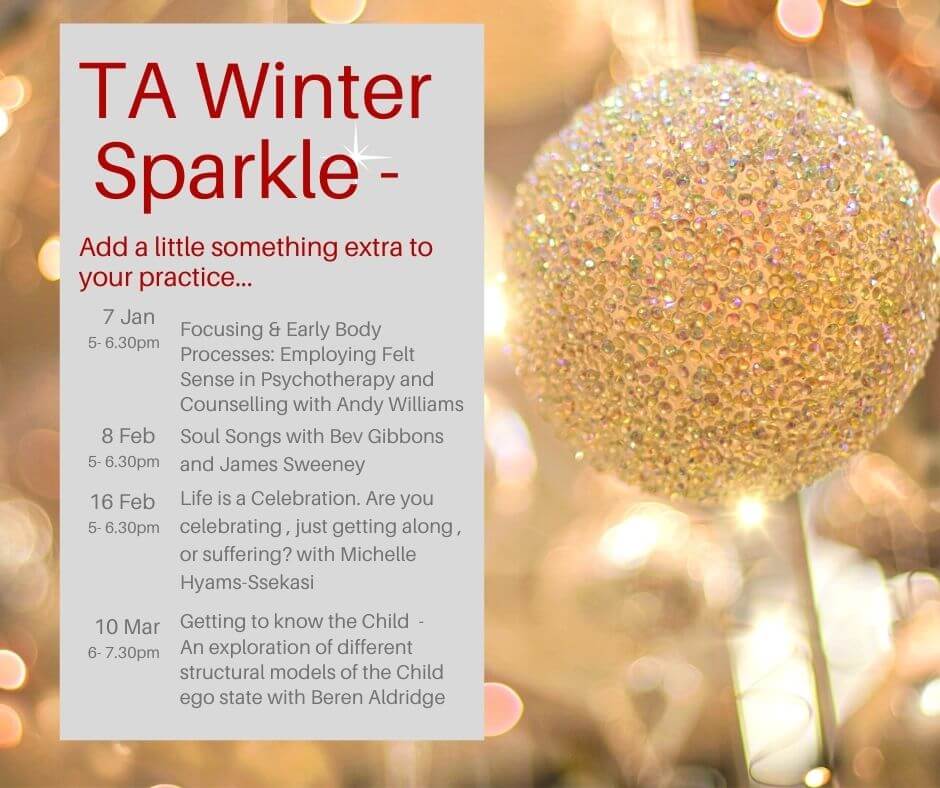 TA Winter Sparkle is our series of online seminars, offering you a chance to bring a little something extra to your practice. Our presenters will be sharing an aspect that has really made a different to them and their own practice. Each seminar is 90 mins long and is by donation only. We look forward to seeing you!
Focusing & Early Body Processes: Employing Felt Sense in Psychotherapy and Counselling – Andy Williams TSTA(P)
Thursday 7 January 5.00 – 6.30pm

Some would argue that the knowledge and experience within this workshop is essential to every practitioner. How can we proceed as therapists without a clear understanding of "felt sense". We also need to be aware of primitive body processes that underpin our clinical work? This workshop will concentrate on the "person-centred" nature of the work by Eugene Gendlin. Gendlin is one of the research partners of Carl Rogers. We will be looking at the nature of Focusing and how it fits with modern components of psychotherapy. Areas imclude mindfulness, somatic orientation, the present moment, relationality and the importance of values-based work, acceptance, and attachment theory.
This 90 minute workshop is an introduction to this fascinating therapeutic stance and intervention of Focusing. This workshop will be followed by a set of half-days that will offer the practitioner the opportunity to deepen their learning.
As the Andy is passionate about Transactional Analysis, some of this may creep in too!
This workshop will offer delegates the opportunity to move away from the pure cognitive for a while, and to return to the intuitive and to one's own "felt sense". It is hoped, as we move out of Covid-19 in 2020, that this workshop will allow delegates to breathe and to get in contact with "body sense" again – even if we continue to work remotely.
Soul Songs with Bev Gibbons PTSTA(P) and James Sweeney
Monday 8 February 5.00 – 6.30pm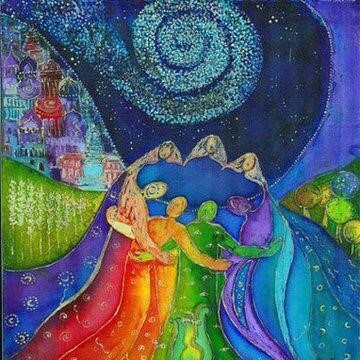 We each have many stories in our narrative of our own being, and we can be deeply attached to our stories, our soul songs, which form the songbook of our survival and have shaped our identity.
Songs and singing as a way of story-telling are at the heart of human relating, and have been since humans came into being. We invite you to bring one of your soul songs – which can be any song you are comfortable to share and reflect on – to form the basis of an exploratory exercise, in pairs, to find out what happens when we take one of our soul songs into the intersubjective space and explore it together in a co-creative process.
Through dialogue, sharing, listening and co-reflection new aspects and meaning can emerge, deepening and expanding our understanding of our soul songs. We invite you into an experience followed by time in a co-creative space for reflection, sharing, exploring theories and learning together.
From this TA Winter Sparkle seminar, you will have a deepening self-awareness. It is an opportunity to try a creative work idea before use in practice. You will also have looked into the neuroscience of music and memory.
NB Attendees need to have the means to play music that can be heard over Zoom. This could be a smart phone and download from YouTube, or a prepared or pre- recorded piece played through a speaker from a laptop or other device.
Life is a Celebration. Are You Celebrating , Just getting Along , or Suffering? with Michelle Hyams-Ssekasi PTSTA(P)
Tuesday 16 February 5.00 – 6.30pm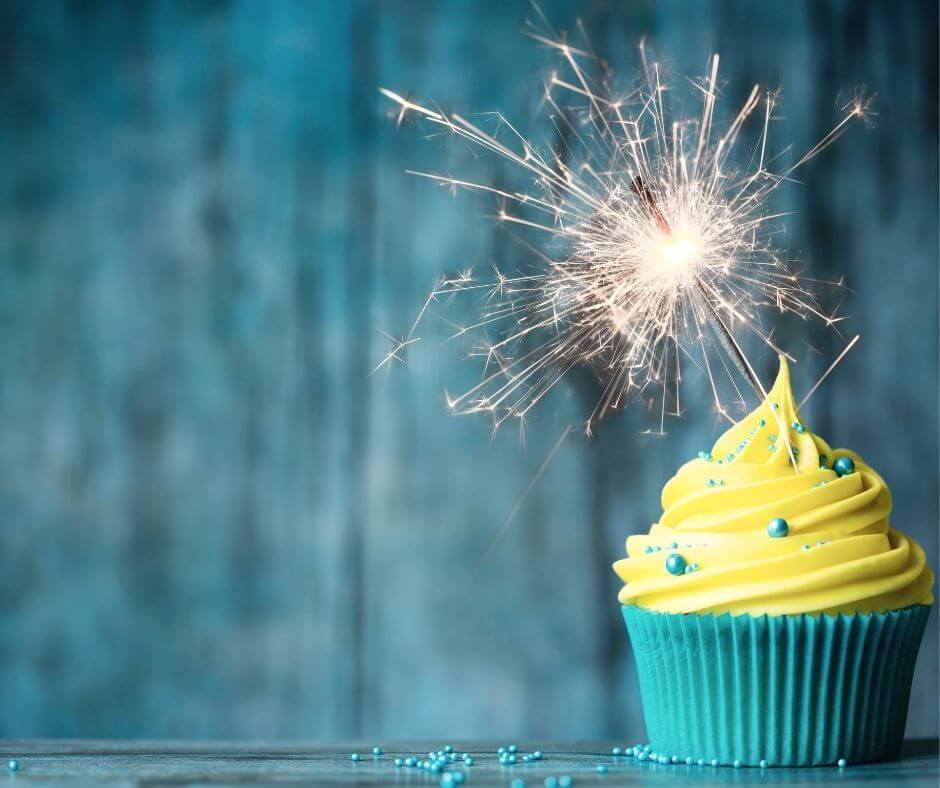 Life is dynamic , complex and is full of suprises. In this life we are born with a zest and drive for purpose and celebration. Events and experiences may impact and surpass our ability to celebrate and make the connection. As human beings we can experience different levels of celebration which are short , medium or long term. These lived experiences are guided by our life scripts.
This Winter Sparkle seminar draws exclusively from the work of Osnes and Gesme "Life is a Celebration" . In their view individuals can learn to identify their script patterns and barriers to the restoration of joy through a TA lens. In addition, the seminar will enhance and build on your knowledge in order to make choices to celebrate. Working together we can celebrate!!
Getting to know the Child: An exploration of different structural models of the Child ego state with Beren Aldridge PTSTA(P)
Wednesday 10 March 6 – 7.30pm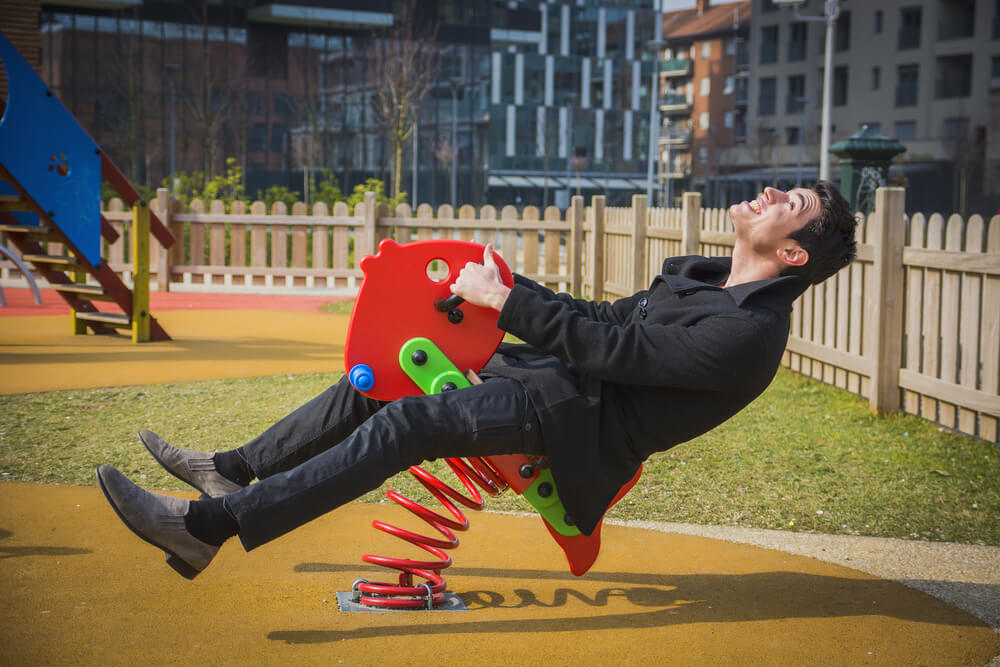 When we train in TA we meet many different ways that TA authors think about and describe the structure of the Child ego state. This seminar will give an overview of some key distinctions between these models. We'll be looking particularly at the second order structure of the Child ego state and offering a road map to navigate and integrate the models that might be commonly associated with a Classical approach with more recent models offered by writers and thinkers in Relational TA.
This TA Winter Sparkle seminar is suitable for people in TA training at all levels.
---
If you enjoy these seminars – why not try one of our other online courses and workshops.